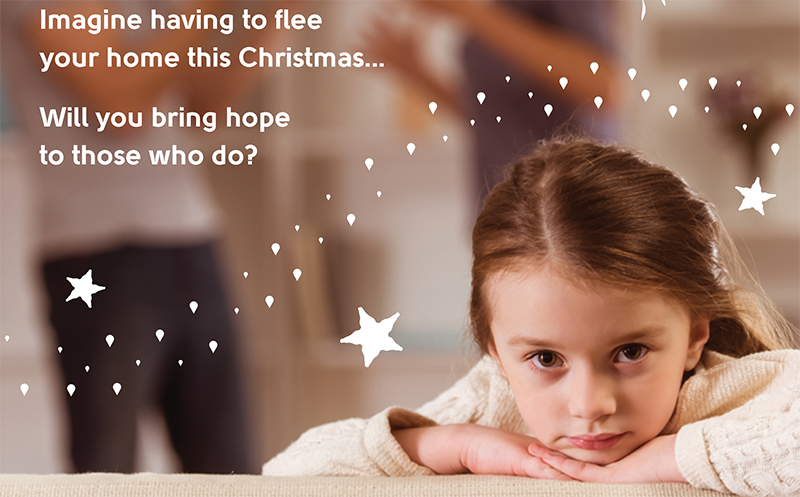 As Christmas draws near, we reflect on the past year and the things we're grateful for. It's a time many of us look forward to. A time of joy and celebration with family and loved ones.

But for many Western Australians, Christmas looks different. They do not share the same excitement.

Each year in Western Australia, family and domestic violence rates escalate during the festive season. Last Christmas, police reported a spike in domestic violence incidents by more than 24%.
There are many families like Hannah's* that need your help.
Many times Hannah's husband hurt her in front of their children. He was unpredictable and controlling, always threatening to harm their children too. Hannah lived in constant fear, feeling powerless and wishing the abuse would stop.

One day Hannah's husband's temper spiralled out of control when his favourite football team lost a final. The abuse escalated. Hannah and her children desperately needed to escape but felt trapped.

Hannah and her children fled their home. They were forced to leave everything behind.

They had nothing. No change of clothes. No money in the bank. No home.
No matter where they ran, Hannah and her children could not escape the memories, the nightmares or the constant fear. They were on edge and struggling to cope.

You have the power to help families like Hannah's
We need your help to reach families like Hannah's. With your support they can access the help they need to rebuild their lives.
Family and domestic violence is a complex issue resulting in families needing to access Anglicare WA's multiple services such as emergency housing, trauma counselling and financial assistance. you can make a life-changing gift to people recovering from domestic violence and help them get back on their feet.
Your generous donation will help people restore their lives and have hope. Through Anglicare WA's programs, Hannah and her two children have been able to begin their journey to recovery. With a roof over their heads, the children back at school and Hannah in a stable job, they now have a future they can look forward to.

But there are many more people like them who have experienced domestic violence and urgently need your help.

Please, will you give today to change the lives of children and families escaping from family and domestic violence?
Help stop domestic violence today
*Names have been changed to protect their identity.