May 16, 2017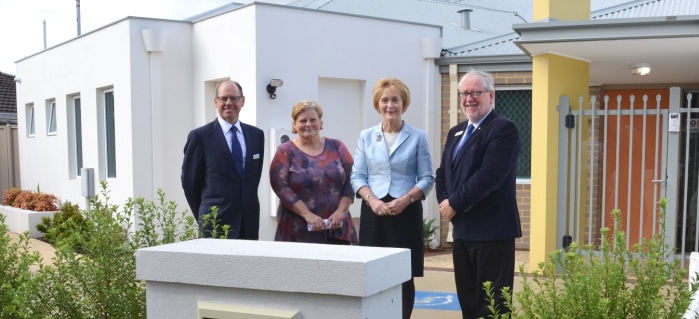 Anglicare WA's Youth Supported Housing and Crisis Accommodation (Y-Shac) facility was officially opened today by Governor Kerry Sanderson.
Her Excellency was joined by Anglicare WA Chairman John Barrington, Rockingham Mayor Barry Sammels and Anglicare WA Chief Executive Officer Ian Carter among other dignitaries, locals and staff to wish the Jecks Street service well.
Y-Shac Rockingham (previously Chesterfield house) has been helping young people in the Baldivis and Rockingham area since 1983.

Manager Rieki Rolle said the facility supports young people aged 15-20 with crisis accommodation and young people aged 16-25 in transitional houses.
"We provide a safe and secure environment for people and assist in referral and interagency collaboration when dealing with young people with sometimes complex mental health issues and safety concerns.
"Most commonly, young people seeking help at Y-Shac are escaping family violence, experiencing mental health issues or using drugs and alcohol. Y-Shac walks alongside young people to help them reach their potential through case management," Ms Rolle said.
In 2016, Y-Shac accommodated 108 young people across both sites in Spearwood and Rockingham.
The program is supported through funding from the National Affordable Housing Agreement (NAHA) through the Department Child Protection and Family Support (DCPFS).
Ms Rolle said Y-Shac was very grateful to the Housing Authority for providing the exceptional property, including seven bedrooms, five bathrooms and two kitchens.
Anglicare WA is contracted to provide the service delivery and staffing.
"The case coordinators work alongside each young person using a person-centred, trauma informed model to assist them to set life goals, and to support each individual to find their own positive futures.
"With the facility now being located in the centre of this community, the young people have greater access to jobs and appropriate education to move forward with their lives," Ms Rolle said.
BGC and Apache Energy generously donated furnishings and money to make the facility comfortable and homely for the residents who use it.