Jul 15, 2017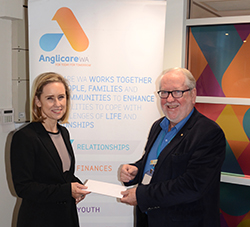 The donation was made on behalf of the State Government as the Minister acknowledged the important work of Anglicare WA in the community.
"Providing practical assistance for the homeless is so important. Assisting Anglicare WA's Winter Appeal is one way the community can assist those less fortunate. They provide services that are quite literally lifelines, enabling families to enjoy the basic comforts many take for granted.
"As a Government, it is our commitment to work side by side with organisations such as Anglicare WA, to make sure we are doing all we can to help those in need," Ms McGurk said.
On hand to receive the donation was Mr Ian Carter AM, Chief Executive Officer for Anglicare WA.
"It's great to see our work acknowledged by the State Government, while the donation itself is a welcome contribution to our resources at a difficult time in the local economy," Mr Carter said.
Anglicare WA holds its Winter Appeal every year and focuses on homelessness to attract community and corporate donations.
Mr Carter said that on any given night around 9,600 people experience homelessness in WA, while a further 7,000 were at risk of it living in caravan parks and crowded dwellings.
A quarter of those people seeking homeless assistance are under 18 years of age.
"The causes of homelessness are complex, but the biggest drivers are escape from domestic violence and sexual abuse, mental health issues, substance use and financial troubles.
"Anglicare WA is committed to helping homeless people long term, providing them with the counselling, support and services they need to rebuild their lives," Mr Carter said.
For media enquiries please contact the Anglicare WA media team on 9263 2039 or
brian.greig@anglicarewa.org.au.