Meet toymaker Roger, who is from the Unflappables - a group of Old Boys from Christ Church Grammar School. Every year the Unflappables donate toys to Anglicare WA. Roger handcarves wooden toys and this year he donated 5 wooden hobby horses. Thank you to Roger and the Unflappables for the toys. We know they will be cherished.
Abigail Chapman and Amalia Allen are both in year 10 at St Hilda's Anglican School for Girls. For the second year, Abigail and Amalia have organised a gift collection of 150 Christmas gift boxes from students in Years 5 -12. They are filled with toys, books and stationery items for Anglicare WA clients aged 0-18. The impact of these thoughtful gifts are felt long after Christmas Day.
We are always looking for generous people in our community to support our services. If you want to make a difference, please give us a call today on 9263 2091.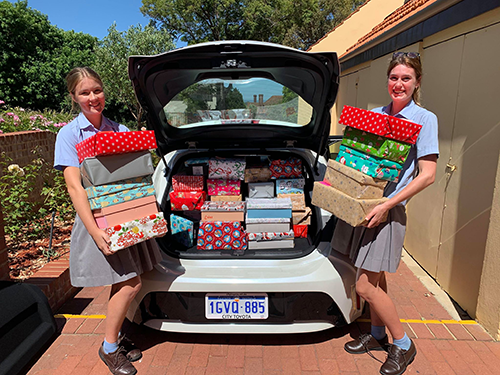 Abigail & Amalia from St Hilda's Anglican School for Girls.