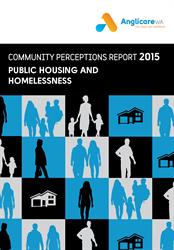 In Western Australia, over 10,000 individuals go to sleep homeless every night. The availability and affordability of housing is an increasingly crucial issue facing our State with far-reaching implications for our families, economy and society at large.
However, the level of public awareness and understanding around affordable housing does not necessarily match the importance of the issue.
Mapping public perceptions is an important undertaking for organisations in the housing sector. Public perceptions play a crucial role in determining Government policy priorities as well as defining cultural stereotypes and stigmatism's. Copy of the full report here.