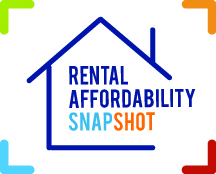 Rental properties are an important source of accommodation for individuals and families on low and fixed incomes.
A shortage of affordable and appropriate rental properties adversely affects the community on a number of levels.
Anglicare WA's Rental Affordability Snapshot is an annual research project that monitors the availability of affordable rentals across the State.
The Snapshot surveys both online and print listings and compares the prices against the incomes of people on benefits and the minimum wage.
Affordability is calculated as 30 percent of a household's net income, the same marker used by the Government to calculate public housing costs.
The Snapshot helps to inform our service delivery and guide our advocacy and policy recommendations.
It has been an important tool in identifying and raising awareness of the severity of housing unaffordability in WA, as well as highlighting the financial pressures on the most disadvantaged people in our community.
See the 2017 Reports below:
2017 Media Release
2017 Media Release - South West and Great Southern
2017 Media Release - North West