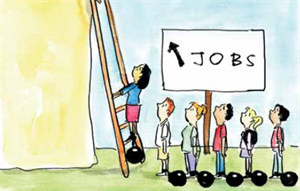 "Positions Vacant? When the Jobs Aren't There" is the title of Anglicare Australia's flagship State of the Family 2016 Report, informed by Anglicare Australia's first Jobs Availability Snapshot highlighting the barriers to employment.
To summarise, the findings from the Snapshot show that only 13 percent of all advertised jobs in May 2016 were at the entry level (which assumes year 10 education or equivalent).
In May there were 21,812 entry level jobs advertised in Australia. That same month there were 138,044 people registered as disadvantaged job seekers and a total of 732,000 people unemployed - i.e.: There are about 6 people in need of an entry level job for every job advertised.
This shows that if you don't have a degree, Year 12 qualifications, ample workplace experience or live in an area with few jobs, finding a job is near on impossible based on these figures.
The report also shows that people are facing barriers to employment as a result of widespread economic upheaval.
The nine stories that make up the report are from Anglicare's network members in almost every State of Australia detailing a breadth of challenges to finding work.
Mark Glasson, Anglicare WA's Executive General Manager - Service Operations, wrote a chapter called "When the Boom Subsides" giving an inside view from Western Australia, recounting the experiences of people left behind by the mining boom and subsequent bust and the drastic impact this has had on employment, housing and financial stability.
"From the end of the mining boom in Western Australia to the collapse of the automotive industry in South Australia; or from the barriers faced by young people leaving care right through to migrants and people suffering from mental illness; the report shows that a significant proportion of people who genuinely want to work are unable to find suitable employment", said Executive Director of Anglicare Australia Kasy Chambers.
"We need to both grow the jobs market and invest in people so they can develop the skills and experience they need", she concluded.
To download your copy click on the link State of the Family Report 2016.