Share the Benefit
Anglicare WA and the Social Responsibilities Commission invite you and your faith community to join with us in sharing the benefit during Lent 2019.
Share the Benefit is a unique opportunity for Christians to grow in their understanding and compassion through Bible study and the experience of living for one week on the Newstart Allowance.
"I commend Share the Benefit as a way of helping us develop greater Christian compassion for our neighbours by sharing in a small but powerful way the restrictions experienced by many people living in poverty. It is my intention to spend a week of Lent participating in the program. Please join me in as we are inspired by our Christian faith 'to live a life of care and generosity in response to God's great love for us." - Archbishop Kay Goldsworthy AO
It also offers the opportunity to share our blessings with others through contributing to Anglicare WA's work supporting people experiencing financial crisis and hardship. To register please contact Mark McCracken:
Phone: (08) 9263 2124 or 0403 368 248
Email: mark.mccracken@anglicarewa.org.au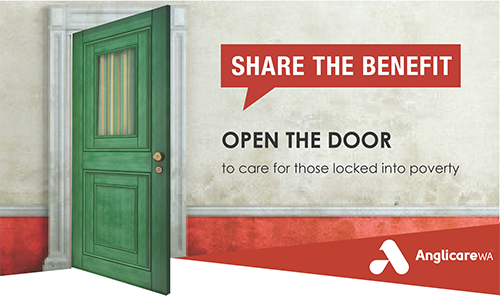 Anglicare WA offer a number of resources to assist faith communities in their community service. We have a range of published materials available through the Diocese of Perth, and provide advice and consultancy for local projects through our Church Partnerships team.

If you would like to know more about Church Partnerships please contact:
The Rev'd Mark McCracken
Phone: (08) 9263 2124 or 0403 368 248
Email: mark.mccracken@anglicarewa.org.au
Anglicare WA Church Community Fund
The Anglicare WA Church Community Fund is intended to encourage Anglican churches throughout WA to apply to Anglicare WA for grants of up to $1,000 each to carry out specific community development work in their community.

The application process

Applications need to address each of the grant questions on the online application form.
Please feel free to add additional information if necessary. The application will be assessed on the project or event's contribution to your parish's mission, the way in which it complements Anglicare WA's work and the overall benefit to your local community. We are open to any initiative that will build community in your locality.

Please click the link below to find out more about grant requirements and to complete the application form.

Fill in the Church Community Fund application