The application process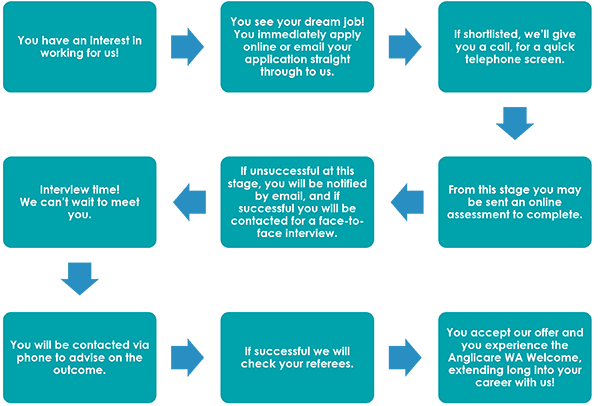 Your application checklist

An application for a vacancy with Anglicare WA must contain the following documents:
Screening Questions – when you apply for a position online you will be asked a few screening questions prior to attaching your supporting documents.

Résumé or Curriculum Vitae (CV) - provides a snapshot of your career and should detail your up-to-date contact information, qualifications, education and training, employment history, professional memberships, and skills.
Cover Letter – outlines how your experience, qualifications and competencies match the job you are applying for. It should be brief (3-4 paragraphs) focusing on the most relevant parts of your background to the position you have applied for.
If you are successful

A member of the People and Culture team will contact you via phone to make a verbal offer, which, if accepted, will be followed up in writing. Please note Anglicare WA has a drug and alcohol policy and random drug and alcohol tests are conducted throughout the organisation.
The offer will be subject to the candidate being able to produce the satisfactory documents below relevant for the position they have applied for. These documents will need to be received by Anglicare WA prior to commencement:
National Police Clearance – for all positions (current within 1 year)
Current WA Working with Children Check (for positions working in child related work)
Current WA Driver's Licence (for positions where driving is an inherent requirement for the position)
Certificate/Qualifications
Current First Aid Certificate (for residential and care positions)
Proof of working rights within Australia