Get support with your finances
Family and domestic violence support
Private tenancy support
Parenting resources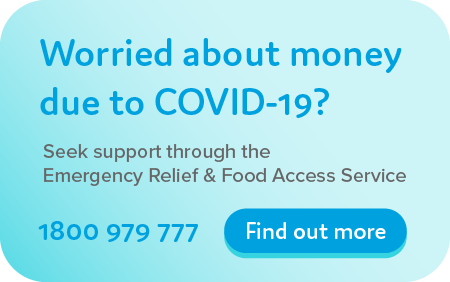 These office locations are now closed for in-person appointments
As COVID-19 continues to spread across Western Australia, Anglicare WA has moved more locations to online or phone consultations to help keep our staff, clients, and communities safe.

Some locations continue to provide limited in-person services for specific services, under strict safety measures. Find out more by calling 1300 11 44 46.

Our Op Shops remain open; however, strict measures are in place including mask-wearing and social distancing.

The closures do not include Op Shops, Residential Services, Child & Parent Centres and other specific services. COVID restrictions are in place in all locations.


Anglicare WA Proof of Vaccination
Frequently asked questions for clients, participants, and visitors
The safety of our clients, participants, residents, and staff is the number one priority at Anglicare WA.
Showing proof of vaccination to enter Anglicare WA facilities and venues is an important public health and social measure that helps to protect against COVID-19.
Why do you need to know if I am vaccinated?
By sharing your vaccination status with us we can work with you to provide a quality level of service while still maintaining a safe space for you, other clients, and our staff. If you do not feel comfortable sharing your vaccination status, that's ok, but our service delivery may change based on this.
Do I need to be vaccinated to receive service at Anglicare WA?
No. We are endeavoring to provide high-quality service to all our clients and participants regardless of their vaccination status. How we deliver service may vary depending on your vaccination status, as additional safety controls may need to be put in place to protect you, other clients, and our staff.
How might service change if I am not vaccinated?
How service may be adapted to suit unvaccinated clients and participants will vary from case to case. Considerations will include (but is not limited to):
the type of service being offered,
the resources that are available,
the current risk level for community transmission of COVID-19
Some of the changes that we might offer include (but are not limited to):
Reassigning the consultation to a telephone or online session
Additional personal protective equipment requirements for both you and the practitioner you are working with
Utilizing a larger meeting space
Deferring or rebooking the consultation to a lower-risk time.
How will information about my vaccination status be handled?
Anglicare WA is compliant with Australian Privacy Law including Privacy Act. All information and data will be maintained in accordance with the Anglicare WA Privacy Policy which can be found at www.anglicarewa.org.au/privacy.
How can I show proof of my vaccination status?
The WA Government has released a handy guide for acceptable forms of proof. Please see this publication attached.
What if I would like to take this matter further or have a complaint?
Please review our Feedback and Complaints page. Alternatively, speak to your Anglicare WA contact regarding this process.

Accessing support for Family and Domestic Violence during Coronavirus (COVID-19)
Research indicates domestic violence may increase during natural disasters such as Coronavirus (COVID-19). Social distancing and isolation can increase these risks further.
There are many organisations in WA that want you to know we are still open to those at risk of, or experiencing, family and domestic violence.
This fact sheet contains:
Contact information for Family and Domestic Violence service
What to do if you are concerned that someone in your community is experiencing violence at home