Get support with your finances
Family and domestic violence support
Private tenancy support
Parenting resources
Sexual abuse support services
View all services
Contact us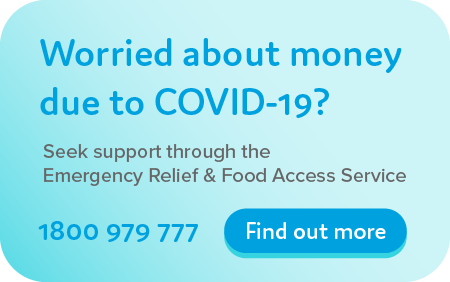 A message to all Western Australians
In the wake of Coronavirus (COVID-19), we have changed the way we are operating to fit with guidelines and regulations provided by the Australian Government around social distancing and safeguarding of our clients and staff.
To manage these changes, Anglicare WA has activated a COVID-19 Response Team. This team is responsible for establishing and implementing the organisation's approach to slowing the impact of the Coronavirus.
Changes to our services
We are now offering appointments in person, via phone, and online.
Following the advice of the Australian Government, the Australian Medical Association and the World Health Organisation, Anglicare WA has introduced temporary changes to our services to help limit the spread of Coronavirus (COVID-19). As a result, some of our services may be operating at reduced capacity.

If you have not been contacted yet about changes to your program or are seeking our help for the first time, please click here to email or call 1300 11 44 46. You may be required to leave a message, but rest assured we will return your call within 24 hours.

Driving positive outcomes with those in need and challenging barriers to thriving will always be our purpose
Anglicare WA acknowledge that there are many dimensions to wellbeing. We are keenly aware that there are vulnerable Western Australians in our community experiencing need prior to COVID-19 and that its impacts will create new vulnerabilities amongst more West Australians.
In spite of these uncertain times we have seen a community of people who are committed to helping others in need and this gives us hope as a state, and a nation, we will become more connected, and grow stronger in the fight for justice for those in need. Hope is not possible without the tireless efforts of our staff, volunteers, health care professionals providing care to all affected, and the support received by the wider West Australian community.