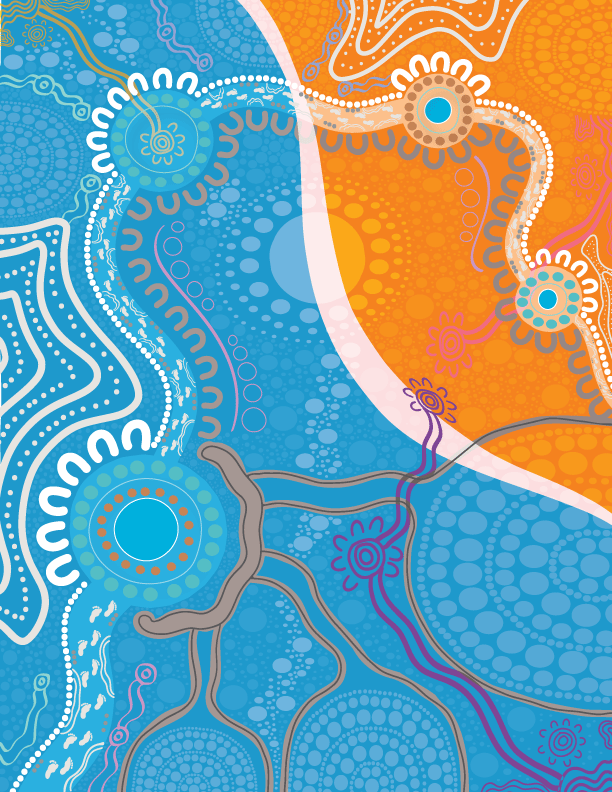 Anglicare WA Commitment in support of the Uluru Statement from the Heart
The Uluru Statement from the Heart offers a historic mandate to create a fuller expression of Australia's nationhood.
Anglicare WA has supported the Statement since 2017. We thank First Nations people for their generous invitation to walk together towards a better future for all Australians and accept this invitation.
In solidarity with First Nations Peoples, communities and organisations, we commit to advocating for the Australian Parliament to implement the Uluru Statement from the Heart.
Anglicare WA pledges our support to the three key elements of the Uluru Statement from the Heart.
• Voice: We hear and support the call for the establishment of a First Nations Voice enshrined in the Constitution to empower First Nations peoples.
• Treaty: We hear and support the call for a Makarrata Commission to supervise a process of agreement making between governments.
• Truth: We hear and support the call for the Makarrata Commission to oversee a process of truth telling about our history.
We commit to supporting self-determination in the communities in which we work. In some cases, this means handing over aspects of our work to First Nations organisations.
We commit to respecting the knowledge and expertise of First Nations peoples and centring First Nations voices in our work.
We commit to informing and educating our workforce, supporters and partners on the Uluru Statement from the Heart and using our sphere of influence to encourage other organisations to join these efforts.
We believe that an Indigenous Voice must be enshrined in the constitution to ensure changes in government don't enable an erosion of the commitment to seek advice from First Nations people in matters which affect them and about which they know best.
We join people and organisations across the country in accepting the invitation in the Uluru Statement from the Heart to walk with First Nations people to make Australia a more inclusive place for everyone.
John Atkins AO, Chairman
Statement issued by the Anglicare WA Board on behalf of the organisation 4 April 2023.
Artwork by Hayley Thompson, a proud Noongar and Yuggera yorga, who also works for Anglicare WA's YES! Housing service in Boorloo.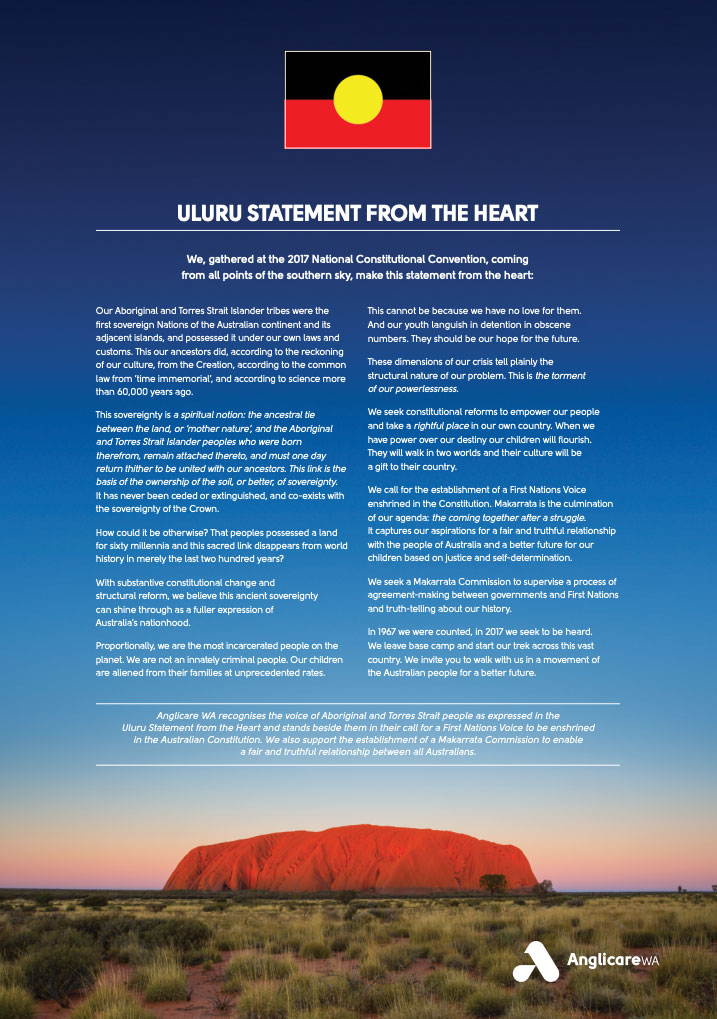 Anglicare WA recognises the voice of Aboriginal and Torres Strait people as expressed in the Uluru Statement from the Heart and stands beside them in their call for a First Nations Voice to be enshrined in the Australian Constitution. We also support the establishment of a Makarrata Commission to enable a fair and truthful relationship between all Australians.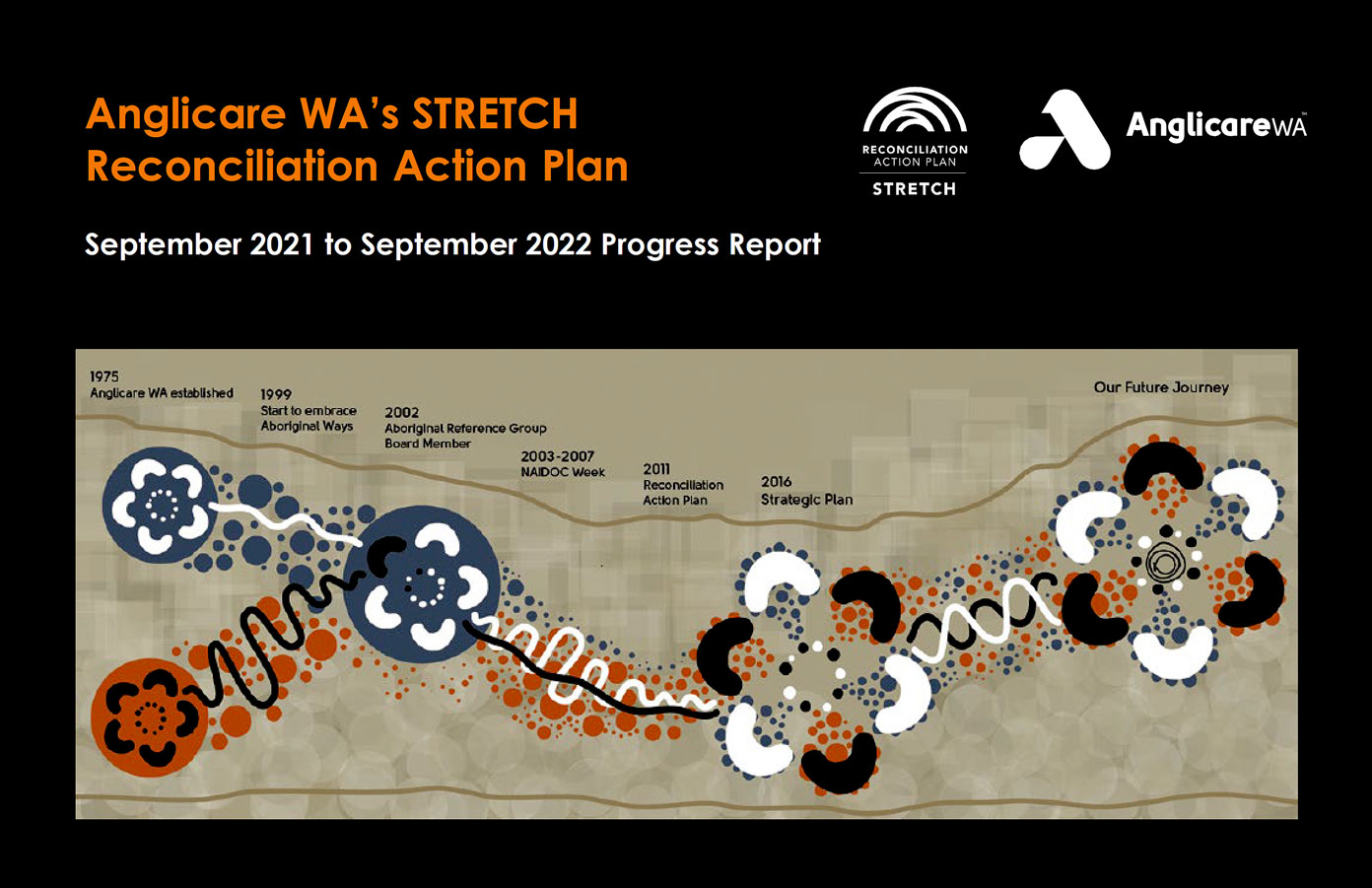 STRETCH Reconciliation Action Plan
Our vision is a just and fair Western Australia, where everyone can thrive. Working towards this vision requires us to directly challenge the barriers to thriving experienced by Aboriginal peoples across Western Australia and to drive positive outcomes with Aboriginal clients.
We are excited to recommit to learning from and supporting Aboriginal peoples and communities in our current STRETCH Reconciliation Action Plan. We look forward to deepening the relationships we have, continuing to grow our understanding and demonstrating our respect, and creating further opportunities for Aboriginal peoples and communities.



Anglicare WA is a proud member of Reconciliation WA