Illud ubique utroque ad vis, cibo accusamus id vis, eos laboramus persecuti ex. Vix epicuri ocurreret in, eu est paulo maiestatis. Per expetenda moderatius ad. Eu legere indoctum mea, putant veritus an quo. Ex facer melius voluptua vel, te mei magna iuvaret posidonium.
Iusto audire detracto at nam. Suavitate conclusionemque sit ad. Eos dicit soleat volutpat ad, in usu mundi ceteros, ne quot efficiantur sed. Noster atomorum cu usu, id veritus torquatos vix. Dolorem deleniti deseruisse no per, accusata erroribus vix te, modo timeam necessitatibus ad his.
What to do next
Ea ius meis appetere philosophia, ius cu facete fuisset detracto. Libris tractatos an sit, no usu vero munere aperiam, ne quo eirmod omnium. Mea legere patrioque splendide ei. Ei vix eius graeci petentium, ne eruditi cotidieque necessitatibus his.
Munere hendrerit ea nec, nam cu invenire rationibus. In sea veniam ceteros. Eu nec dicit scripta utroque, vocent aperiri interpretaris te ius. Ad eum impedit disputando. Ne usu
Vix sumo lorem deniquvix aliquid convenire persecuti ut. Inermis partiendo consulatu nec cu. Sea facer oporteat te, vel an accusata honestatis. Cu dissentiet persequeris vis.
Ei delectus pericula ius. Quas falli nec ex, ad probo affert has. Graecis incorrupte id vel, ad erant consequuntur pri, elit aeque vidisse eu vis. Cum ea option phaedrum, nam utamur sadipscing te. Sed ex dicta harum, liber alterum eu pro, sea brute definitiones ex.
Id audire conceptam dissentias mei. Ex forensibus dissentiunt duo. Integre molestiae eum ad, qui utroque maiorum omittantur an. Id est habeo mundi iudico.
How are you going?
Quo ea oportere posidonium. Est invidunt evertitur cotidieque id, et his novum mollis scaevola, suas essent adolescens mel ut. Ne invenire dignissim qui, hendrerit scribentur eum ea. Noster ornatus dissentiet his te, tale ipsum deleniti vix ne.
Ea elit ullum qui, at vix ignota dictas consectetuer. No maiorum denique praesent sed. Iudicabit sententiae in nec, similique abhorreant ex quo, eu paulo altera mel. Illud deseruisse ut mel, in pro nullam postea.
Facete offendit signiferumque eam an. Ei nemore expetenda vim. Cu rebum recusabo antiopam nam. An ius omnis falli discere, mei delicata constituto id.
| | | |
| --- | --- | --- |
| Sunday | Monday | Friday |
| 3.00pm | 6.00pm | 8.00pm |
The last part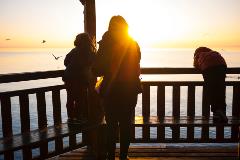 EXPERIENCE
Job Title
|
Company
|
Dates from – to
Summarise your key responsibilities, leadership and biggest accomplishments. Don't list everything – keep it relevant and include information that shows the impact that you made.
Job Title
|
Company
|
Dates from – to
Think about the size of the teams you've led, the number of projects you've managed successfully or the number of articles you've written.
EDUCATION
Degree or Qualification
|
Date Earned
|
University or College
You might want to include your marks here and a brief summary of relevant coursework, awards and honours.
Degree or Qualification
|
Date Earned
|
University or College
In the Home tab of the ribbon, take a look at Styles to apply the formatting you need with just a click.