Young people who are lost and scared and feel like they have nowhere to turn. Young people who don't feel valued or loved. Young people who are led astray, to substance abuse, addiction, or worse. We can help them turn their lives around, but our resources are already stretched to breaking point.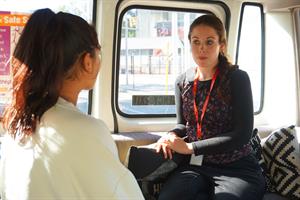 "I genuinely worry that Kate won't be alive tomorrow if we don't do something today."
– Lorna, Street Connect youth worker
Kate's story
Like so many girls in Western Australia, Kate battled with the pressures of high school, keeping up her singing lessons, maintaining a social life, and spending time with her family. But Kate had an added challenge. Adopted at a very young age, she has never met her birth parents or some of her siblings.

Kate's childhood was strained and difficult. She didn't feel she could speak to her adoptive parents and was forced to deal with her feelings about the past, and her challenges at school on her own. Her mental health suffered, and she turned to social media where people listened to her.

Soon, Kate became the victim of older online predators.

"One of these men she was chatting to took advantage of her and sexually assaulted her a number of times," Lorna says. "That was her first experience of a sexual relationship. She was 13.

"Her parents felt that it wasn't fitting for Kate to live in the family home anymore, because they thought it was a risk to the other children. They kicked Kate out of the house.

"Suddenly, she was launched into an environment that she was really not ready for. The older man she was spending time with shot her up with meth and that was her first ever encounter with drugs. She'd never had a previous desire to engage in them.

"When we first met her, she was sleeping in a stairwell."

This is why we need your help today
We have been given an incredible opportunity to DOUBLE our impact and help more young people who are living rough. If we can raise $350,000 by June 30, Anglicare WA's Winter Appeal Committee has pledged to match the donation.
Please help us reach our goal of raising $700,000 and changing the lives of twice the people in need.
Youth homelessness is a growing problem in our State. In fact, around 9,500 people are experiencing homelessness on any given night in Western Australia. More than 3,500 of these people are below the age of 25. Anglicare WA's Street Connect program aims to make connections with vulnerable young people, to show them that they are valuable and help them to turn their lives around.

The service is run by a team of youth workers, like Lorna, who provide case management support, food vouchers, financial assistance, clothing and informal counselling via the Street Connect Outreach Bus.
Street Connect is like no other program in Western Australia. It's unique because there is no limit on the time we can spend with the people who need us – specialist youth workers will work with them for as long as it takes to get them out of danger and back on track.

But like so many things, it costs money to run this vital program.

Please donate today and help us support young people in need.

Yes, I want to support the Street Connect program and help people like Kate